Every Question You Have About Santorini Answered
By Teo Spengler

; Updated September 26, 2017
Discovering desert-island beauty with a Greek accent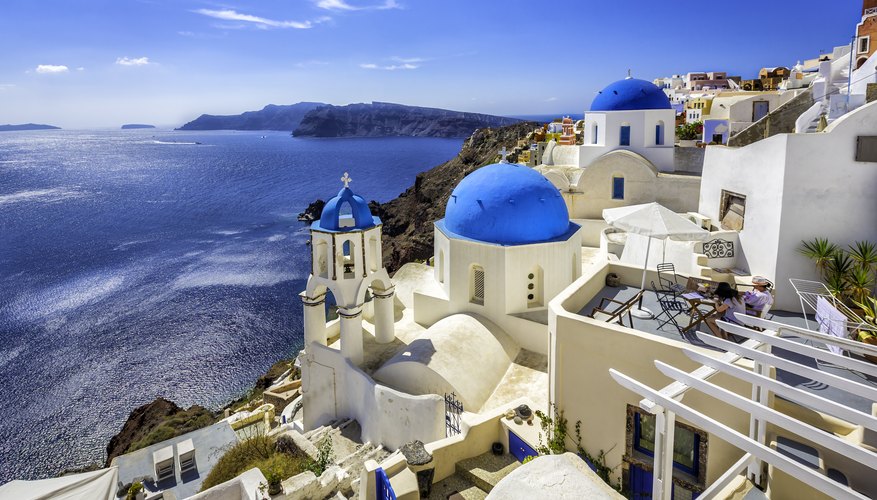 Santorini doesn't pass unnoticed. This volcano-carved, Cyclades island is a head-turner with its candy-colored cubiform houses carved into cliffs above a sapphire ocean. If it's on your bucket list, you aren't alone. Here's what you need to know to get ready, set and go.
Q: What sea is Santorini on?
A: Santorini and its volcanic islets are officially known as Thira. They are part of the Cyclades island group, located in the Aegean Sea. This beautiful Greek island is about the halfway point between Athens and Crete.
Q: What is Santorini famous for?
A: Santorini is known for its natural beauty. The croissant-shaped island curls steep west-coast cliffs around a sunken, sea-covered caldera. The surrounding ocean is a deep jewel-blue. People visit this magical island to admire the stunning panoramas, dazzling sunsets and volcanic-sand beaches.

A trio of villages along the caldera cliff draws crowds, too. These are Santorini's capital city Fira, its close neighbor Firostefani and Imerovigli, a village at the highest point of the caldera edge. The ribbon of road connecting these villages is lined with high-end hotels, terraced eateries and gorgeous views. The other famous village on Santorini is Oia, to the north, known for its incredible sunsets.
Q: What is there to do in Santorini?
A: Fun and sun are the order of the day in romantic Santorini. You have lots of options to get your feet wet. Enjoy your hotel's pool or your room's private lounge pool if you are living the life of luxury. You can also stretch out to tan on a black-sand beach on the east side of the island. Southern beaches have unique, multicolored sand. Caldera boat cruises are very popular too, so take your pick. Many head to the volcanic islands of Nea Kameni and Palia Kameni that are within the caldera. Nea Kameni has a crater while Palia Kameni is famous for its hot springs.
Perhaps the most popular leisure activity that doesn't involve getting wet is walking. Anyone will enjoy a stroll along the caldera edge, camera ready to capture the dramatic views. Head north from Fira on the path along the cliff edge for particularly stunning vistas. In short order, you'll get to Firostefani and Imerovigli. Beyond Imerovigli, the pathway gets more difficult, but if you keep going for three or four hours, you'll arrive in Oia at the north end of the island.
Stick around in Oia long enough to catch the sunset. It is so magnificent that, in high season, thousands of tourists come for the show. Don't be surprised when people start clapping as the sun slides below the horizon.
All this sightseeing might make you curious about the islands and their history. Learn the backstory of Santorini by visiting one of the museums and historic sites like Akrotiri and the Museum of Prehistoric Thera in Fira.
Akrotiri is an ancient Minoan city that was covered in ash when the volcano erupted in 1613 B.C. Excavations in 1967 uncovered the city, and you can visit parts of it today. Stroll along wooden walkways to view structures that made it through the catastrophe as well as streets, ancient drainage systems and pottery.

The Museum of Prehistoric Thera displays finds from the archeological digs in Akrotiri.
Another fun activity in Santorini is visiting the local vineyards for an island wine-tasting afternoon. Native grapes called assyrtiko and are used to make several varieties of wine. These include dry white wines as well as Vinsanto, an amber dessert wine. Local vineyards offer tastings, often with snacks.
Q: How do you get from Mykonos to Santorini?
A: The best way to get from Mykonos to Santorini is on a ferry. It takes about 2 hours and 30 minutes, and there are about four sailings every day. If you book online, don't try to board with your online print-out. You need to obtain a ticket from the departure kiosk. And don't expect to sit outside. The ferries are closed, not open, and the seats will make you think of airplane seats.
You can also fly between these cities. It takes only about 30 minutes in the air, but count in all that wait time at the airport, and it's not much of a time saver. Plus the flights from Santorini to Mykonos are few and far between.
Q: How do you get from Athens to Santorini?
A: If you are traveling from Athens to Santorini, you can take the slow ferry, fast ferry or a plane. It is a 8-hour trip on a slow ferry, 5 hours on fast ferry (that costs twice as much) and about 45 minutes by plane. When buying tickets, remember that Santorini is called Thira in Greek, and the airport code is JTR. Ryanair has some of the lowest priced flights.
Q: How do you get from Thessaloniki to Santorini?
A: You can travel quickly from Thessaloniki to Santorini by plane. Alternatively, drive, take a train or take a bus to Athens, then take a plane or ferry. Flying takes a little over 2 hours and may be your cheapest alternative. Driving plus ferry takes upwards of 10 hours.
Q: How do you get from Heraklion to Santorini?
A: If you want to travel between Heraklion (in Crete) and Santorini, the ferry is only 2 hours on the super-fast summer ferries. Regular ferries can take up to 5 hours. By small aircraft, it take about half an hour.
Q: How long is the flight from Gatwick to Santorini?
A: As the crow flies, it is 1,622 miles from England's Gatwick Airport to Santorini. A flight takes 4 hours. Airlines making the trip include Easy Jet and Aegean.
Q: What is there to buy in Santorini, Greece?
A: The shops in Santorini offer handicrafts made elsewhere that you can buy cheaper in Athens, so avoid these. Local wines are fun gifts to take away from Santorini. Or, pick up some of the locally produced pickled canned goods. The bookstore Atlantis Books has a great collection of books about Greece in general or Santorini in particular.