Your Most Pressing Cancun Questions Answered
By Johanna Read

; Updated September 26, 2017
Underwater and above in Cancun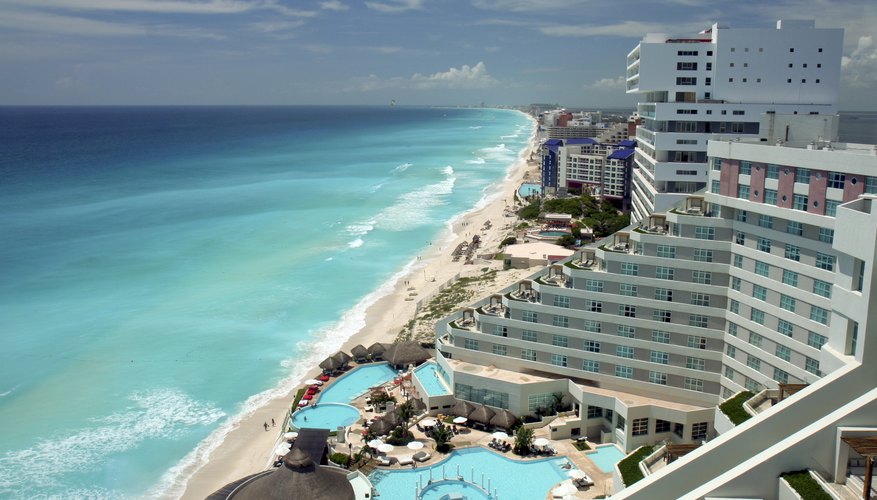 Cancun has long been a favorite of those who like to spend their days exploring the sea. Scuba divers and snorkelers love the clear water and marine life found along this stretch of Mexico's coastline shaped like the number seven. For those who prefer to stay dry under the sun, there's plenty to do, too. Travelers in the know pick top resorts like Grand Residences Riviera Cancun as their home away from home.
Q: What ocean is Cancun on?
A: Cancun, on the Yucatan Peninsula in Mexico's state of Quintana Roo, is on the Caribbean Sea. The other side of the peninsula, including the resort town of Merida, is on the Gulf of Mexico.
Q: What is the weather in Cancun, Mexico?
A: Cancun has beach weather all year round. Daytime highs range from the low 80s in December and January to the low 90s in the summer months. At night, the average temperature dips between 70 and 77 degrees F. September is by far the rainiest month with over 10 inches of rain, and hurricanes can happen from July through October. January to May are the driest months.
Q: When is low season in Cancun?
A: Cancun's low season begins in May and lasts until school vacation starts. The low season begins again in the fall after school is back in session.
Q: When is the best time to go to Cancun?
A: The best season weather-wise for Cancun is December to April, but this is also the busiest season when crowds and prices are highest. The best time to go to Cancun to avoid the crowds but still have good weather is in May and November. July and August are the peak months for swimming with whale sharks.
Q: What is the currency in Cancun, Mexico?
A: As in the rest of Mexico, the official currency in Cancun is the Mexican peso. Some businesses will accept U.S. dollars, but laws prohibit the amount of foreign currency that businesses are able to accept each month.
Q: Do you need a passport to go to Cancun?
A: Both a valid passport and a visitor's permit are required to visit Mexico, including Cancun. The visitor's permit has no cost and is usually provided onboard flights arriving in Mexico. Visas are not needed for passport holders from the United States and almost 50 other countries.
Q: What are the best resorts in Cancun?
A: Cancun has a wide variety of resorts catering to almost every taste and budget. When choosing a hotel, keep beach preferences in mind. There's virtually no surf around downtown Cancun up to Punta Cancun. For more wave action, accommodations on the long strip of sand known as the hotel strip are a good option.
Top Cancun resorts include:
Grand Residences Riviera Cancun: This luxury resort, a member of the Leading Hotels of the World, is in an ideal spot next to the village of Puerto Morelos. The resort is quiet and relaxed, yet close to all of Cancun's attractions. Accommodation for discerning guests includes elegant suites and villas, and there are several excellent restaurants and bars. Choose from activities like yoga by the sea, spa services, water sports, tennis, or fun designed just for the kids. Or just relax and enjoy the calm water lapping at the white sand beach or the infinity pool.
Live Aqua Beach Resort Cancun: Directly on Cancun's hotel strip, spend a perfect day here cooling off in one of eight pools while listening to the waves crash on the beach. The 391 rooms and suites are in a white pyramid-like building on the beach.
NIZUC Resort & Spa: In secluded Punta Nizuc, this resort has two beaches, several pools and six restaurants on a huge estate, and sits right next to a golf course. Modern rooms are in cool gray or taupe and the villas have private infinity pools.
Q: What is there to do in Cancun?
A: Cancun keeps visitors busy whether they want to be in the sea or out. Its crystal clear waters and powdery white sand call for plenty of beach time. Aside from enjoying the hotel beaches, book one of these watery excursions:
Cancun Underwater Museum: Whether viewed by glass-bottomed boat or via snorkel or scuba tank, this underwater museum has installed over 500 sculptures to promote the growth of coral and revitalize the natural reefs in the area.
Xel-Ha Park: With caves, cenotes and lagoons, Xel-Ha is a great place for exploring. The park has swimming and snorkeling, ziplining, floating on a lazy river past mangroves, and even a cliff to jump off.
Xcaret Park: At this park, visitors can snorkel, swim, see butterflies, birds, turtles and even explore an island with jaguars. There are performances for learning about Mexican cultural traditions, including the dance of the voladores which involves dancers jumping off of poles from up to 100 feet in the air.
Ik Kil: Walk down 85 feet via a carved stairway to this cenote in the jungle near Chichen Itza for a swim, or just for beautiful photos of the vines reaching down into the water. This cenote was sacred to the Mayan people and artifacts have been found within the waters.
To stay dry and learn some area history, the Mayan ruins of Coba are well worth a trip. There's evidence that people have lived in the area for 2,000 years. Visitors can climb the steps of the 138-foot high Ixmoja pyramid for great views plus explore ancient monuments and causeways made of stone.
Q: Are there sharks in Cancun?
A: Sharks can be found in any ocean water. Most sharks are harmless, but a Canadian woman was injured by a shark off a Cancun beach in 2011.
Many people come to Cancun precisely because of the sharks. Cancun is one of the few places in the world where humans can swim with the world's biggest fish, whale sharks. These 40-foot long sharks are filter feeders and have no interest in tasting humans. Boats take passengers out into deep water to have a look at the gentle creatures.
Ensure you choose a reputable tour operator that follows the regulations protecting sharks. For example, boats cannot carry more than 10 passengers or allow more than five people to swim with the sharks at any one time. Whale sharks spend May to September near Cancun's waters, with the peak period in July and August.