Every Question You Have About Lima Answered
By Johanna Read

; Updated September 26, 2017
Lima: It is and isn't about the limes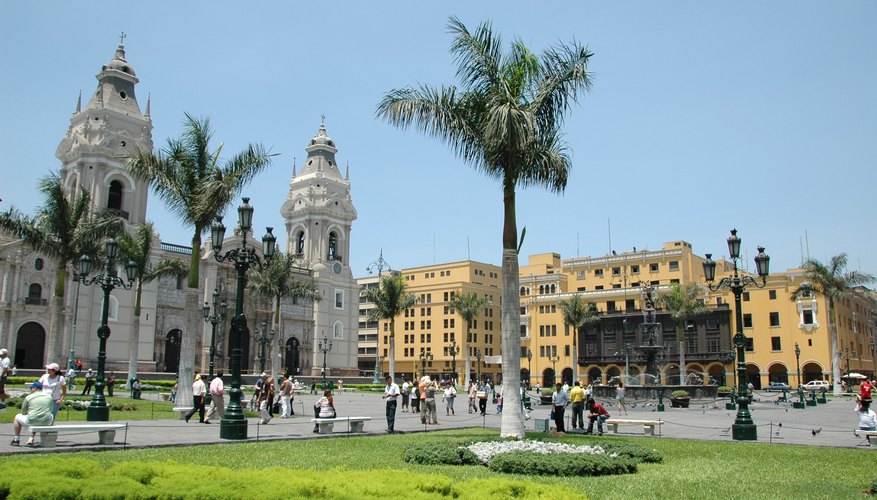 Lima does mean lime in Spanish, and Peru's famous ceviche and pisco sours are made with plenty of them. But Peru's capital city isn't named for the citrus fruit. Instead, Lima is thought to be from the Quechua word Limaq, which means speaker or talker, named after a famous ancient oracle. Fill up on pisco sours when exploring Lima's sea-level sites and culinary delights, as it's best to avoid alcohol when at altitude in Cusco and the Incan ruins of Machu Picchu up in the Andes.
Q: How is the weather in Lima?
A: Lima's weather is generally pleasant, though it can get cool at night (mid-50s to mid-60s). Daytime temperatures are usually in the high 70s or low 80s, and it can be humid despite the desert that surrounds the city. Lima gets morning fog, and it's often cloudy, except in the sunny Peruvian summer of December to April.
Q: Does it rain in Lima, Peru?
A: It rains only rarely in Lima, though it can get misty. Lima's rainiest month is August, which gets only about a third of an inch of rain.
Q: Is Lima, Peru, safe?
A: As in big cities anywhere in the world, visitors to Lima should keep expensive items and money guarded in inside pockets. Pickpockets often target tourists, and distraction scams can happen. While the historic district is fine in the daytime, tourists are advised not to go there at night. Touristy and residential neighborhoods like Miraflores are the safest.
Q: How many airports in Lima?
A: Lima has just one airport, Jorge Chávez International Airport. It is just outside Lima in the port city of Callao.
Q: How to get from the Lima airport to Miraflores?
A: Miraflores is one of the most popular neighborhoods in Lima for tourists. The best way to get there is via hired car. Taxi scams can happen, so it is safest to arrange a car through your hotel.
There have been some reports of bag snatching from cars stopped at red lights on the road from the airport. Take extra precautions by keeping bags out of sight (in the trunk, or under your legs, rather than on the seat), and be aware of anyone who approaches the car when stopped. Street performers and snack sellers will walk near stopped cars hoping for a tip or sale.
Q: What to do in Lima, Peru?
A: Lima is justifiably famous for its cuisine. Be sure to sample Peru's iconic ceviche (raw fish "cooked" in lime juice) and a pisco sour, made traditionally with lime juice.
Spend a day sightseeing in Lima's historic district. Plazas with beautiful architecture are everywhere. Walk down the pedestrian-only street to Plaza Mayor, where the city was founded. It's surrounded by beautiful buildings including the Cathedral of Lima and the residence of the president, Government Palace. Time your visit to see the changing of the guards. Don't miss two key sites nearby:
Monastery of San Francisco: A Baroque church, convent and library, this monastery houses underground catacombs where more than 30,000 people are buried.
Cathedral Basilica of St. John the Apostle and Evangelist: Also called the Lima Cathedral, this building was inaugurated in 1540.
Q: What to do in Miraflores, Lima?
A: Miraflores is a great neighborhood for hanging out, soaking up the atmosphere and enjoying Peruvian cuisine. Walk the 6-mile El Malecón, the cliff-top walk overlooking the Pacific Ocean, where parasailers take off on flights (tandem rides are available for adrenaline seekers). People-watching is popular in Parque Kennedy and Parque del Amor. See some archeological history at the ancient pyramid of Huaca Pucllana.
Q: How to get to Machu Picchu from Lima?
A: No visit to Peru is complete without seeing the ruins of Machu Picchu. Getting from Lima to Cusco is the first step (see below). Once in Cusco, getting to Machu Picchu requires a combination of taxi, train and bus.
The last town in the Sacred Valley accessible by road is Ollantaytambo, which has some beautiful ruins to explore and is worth a stay. The cheapest way to get from Cusco to Olly, as tourists often call it, is via a minivan called a collectivo. These small buses collect passengers on Pavitos Street in Cusco, which is a 10- to 15-minute taxi ride from the airport. It is also possible to take a taxi or the train from Cusco all the way to Ollantaytambo.
As the road ends in Ollantaytambo, everyone must take the train from there to Machu Picchu's base town, Aguas Calientes. There are several classes of train available, and they all have the same view and large windows, so there's no need to splurge on the Hiram Bingham luxury train. A passport is required to purchase train tickets.
Buses go from Aguas Calientes up to Machu Picchu. Lines start to form at the bus stop on Aguas Calientes' main street at about 5 a.m. with those who want to see the sunrise. To save time, purchase bus tickets the day before from one of the kiosks near the bus stop. It is possible to hike up to Machu Picchu too, though most people save their legs for exploring the ruins themselves.
Q: How to get from Lima to Cusco?
A: While it is possible to take the bus from Lima to Cusco, the journey is long. It takes from 20 to 27 hours, depending on the route. Flying is the fastest and easiest way to get from Lima to Cusco. Buying a ticket through a travel agent or from an airline office in Lima is easy. Note that some airlines require a SecureCode credit card to buy online.
Be aware that Cusco is at a high altitude – 11,150 feet above sea level – and that the altitude sickness zone begins at 8,000 feet. Many people make the mistake of acclimatizing to the altitude in Cusco, not realizing that Machu Picchu is below the altitude sickness zone at 7,972 feet.
To adjust to the altitude with a minimum of headache and discomfort, fly into Cusco and then immediately go down to one of the Sacred Valley towns like Ollantaytambo to spend a night or two before hiking Machu Picchu. Cusco is better explored after a few days acclimatizing in the Sacred Valley and at Machu Picchu. Because of the even higher altitudes of the Inca Trail, hikers will want to plan several days acclimatization in Cusco before starting out.