Does It Snow in Italy?
By Teo Spengler

; Updated September 26, 2017
Exploring the other side of a Mediterranean climate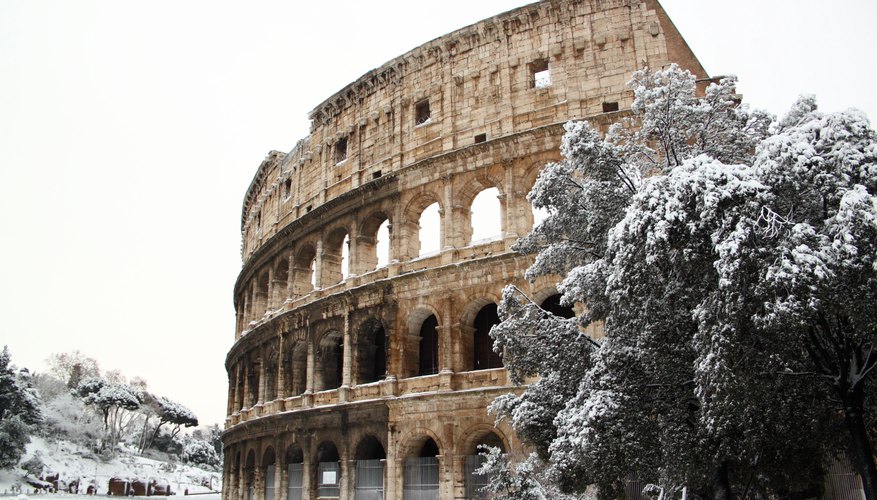 Call it the "s" word, that four-letter word so many travelers would rather not hear when they are talking about Italy: snow. But yes, it does snow in Italy, every single year. And that only adds to the country's many-splendored charms.
Snow? In Italy?
For many travelers, Italy means glowing Sienna afternoons, basking on the Italian Riviera or gliding in a gondola in Venice with the sun caressing your face. That's because many Americans head for Italy in the golden days of summer or the shoulder seasons of spring and fall. But even Mediterranean climates experience winters, and Italy is no exception. Italian winters can bring wet, chilly or cold weather and even occasional snow.
Italy is a long pointer finger of a country extending down into the Mediterranean Sea. That means that it boasts many miles of Mediterranean coastline, but it also has a northern mountainous region. The Italian climate varies quite a lot from the north to the south. In the north, between the Alps and the Tuscan-Emilian Apennines, winters are always cold, while summers are hot and humid. Moving toward central Italy, both summers and winters are milder, with the humidity diminished by the proximity to the sea. In the southern regions, winters are mild and summers hot.
Snow is a regular visitor in the northern mountains. But it can also fall almost anywhere in Italy, including occasional flurries in Rome.
Where the white stuff falls
Six regions of Italy nudge into the Alps: the Aosta Valley, Piedmont, Lombardy, Veneto, Trentino, Alto Adige and Friuli-Venezia Giulia. Some, like Alto Adige, are actually in the heart of the eastern Alps, while all include significant alpine areas that get snow in winter. The Aosta Valley offers unmatched skiing opportunities as well as views to such legendary mountains as the Matterhorn, Mont Blanc and Monte Rosa. Piedmont is home to the Piedmont Alps. Most of these regions have both summer tourists and also visitors arriving in winter for skiing, snowboarding, skating and other cold-weather sports.
But while snow falls in the northern mountains of Italy every winter, it pays the occasional call on other areas of the country as well. Snow is common in all of Italy's mountains in December and January and even falls occasionally in cities like Milan, Florence and Rome. Snow falling in Venice is a romantic and beautiful sight.
In the central areas, snow flurries don't last for weeks. One week might see snow, the next week sunshine. In towns like Rome, it's a pretty rare occurrence. When snow fell in Rome in 2014, it was the first snowfall in 26 years.
Here's what to pack
If you are heading to Italy during the winter months, you'll need to pack appropriate clothing and footwear. When you are heading to northern Italy, take the same type of winter garb you'd take on any ski vacation, including warm outerwear, snow boots, gloves and hats, in addition to ski clothing. Leave behind sandals and shorts, but take sunscreen and sunglasses. Remember that sun reflects off snow.
If you are heading to central or southern Italy, check the current extended forecast for the vacation location the evening before you leave home. Then pack with the weather in mind. It's probably a good idea to pack layers you can don in case the temperature drops, as well as an umbrella and waterproof footwear. But don't worry too much about it. If you're tight on packing space, you can always buy the appropriate weather gear in case of unanticipated weather.