What to Bring to Italy
By Kathryn Walsh

; Updated September 26, 2017
Packing your bags for the ultimate avventura Italiana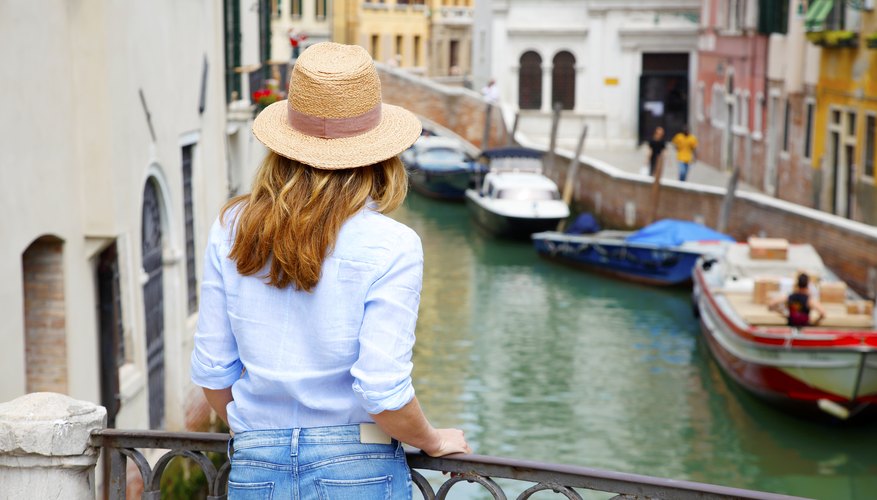 Gawk at the ceiling of the Sistine Chapel in Vatican City. Drip melted mozzarella all over yourself while eating the best pizza of your life in Naples. Take a sunset gondola ride past centuries-old buildings in Venice. Better yet? Do them all, and more. Whether you're planning a no-expense-spared Italian tour or backpacking between hostels, you'll need to pack some basics that will make your trip a comfortable and successful one.
Bring: Long pants
Italy can be quite hot in summer, so if you're visiting in July or August it may be tempting to cut pants from your packing list and fill a carry-on with shorts and T-shirts. However, you'll miss out on some prime sightseeing opportunities if you forget long pants. Not only do Italians tend to wear pants over shorts, many Italian churches actually have dress codes that prohibit bare knees. Even if you're not religious, you should still plan to visit Italy's old and gorgeous churches, like St. Peter's Basilica in Rome. Your pants don't have to be dressy. In fact, jeans will do. They just have to cover your knees.
Tip
Church dress codes allow women to wear skirts that cover the knee as an alternative to pants.
Skip: High heels
The cobblestone streets in many of Italy's cities are tremendously charming, but there's nothing charming about a sprained ankle on the first night of your vacation. Pumps or boots with thin spiked heels make those charming cobblestone streets very tricky to navigate. If you insist on wearing shoes that give you some height, make them wedges.
Bring: Lots of light, thin layers
They're easy to mix and match, and light layers are great for adjusting your temperature as you move between air-conditioned buildings and hot Italian streets. Choose pieces that are dark in color or printed with muted patterns, as they hide the wrinkles and stains that always happen during travel. Be sure to pack at least one cardigan or light sweater. Church dress codes may require that all visitors cover their shoulders. If you head out wearing a tank top for a day of sightseeing, bring that light layer to slip on when you enter any conservative attraction.
Skip: Anything overtly touristy
Petty thieves hang out in touristy areas of some Italian cities, looking for easy marks to con or pickpocket. Nothing says "easy target" like a T-shirt that advertises an American sports team, politician or slogan. If a piece of clothing makes it easy for people to guess that you're a U.S. citizen, leave it behind. The same goes for big white sneakers, which may be comfortable to walk in but also give you away as a visitor from North America.
Tip
Large cameras are also a hallmark of tourists. If you're a serious photographer, be vigilant about keeping your camera concealed under clothing whenever possible, to keep it out of sight of thieves. Bring a money belt to keep your valuables safe under your clothing.
Bring: Adapters
If your phone is dead when you arrive in Italy, you'll be grateful to have handy an adapter made for Italian outlets. The North American outlets that you're used to are type A (two prongs) or B (two prongs and a pin below them), while Italy's outlets are type C, F or L, which have either two or three pins in a row. Bring at least one but ideally two power adapters so you can plug in your devices while in Italy. If you're traveling through Europe, you may want to buy a universal adapter kit that has different plugs that you can switch out for use in different countries.