Everything You Need to Know Before Your Dubai Trip
By Hillary Jackson

; Updated September 26, 2017
Experience the luxury of Dubai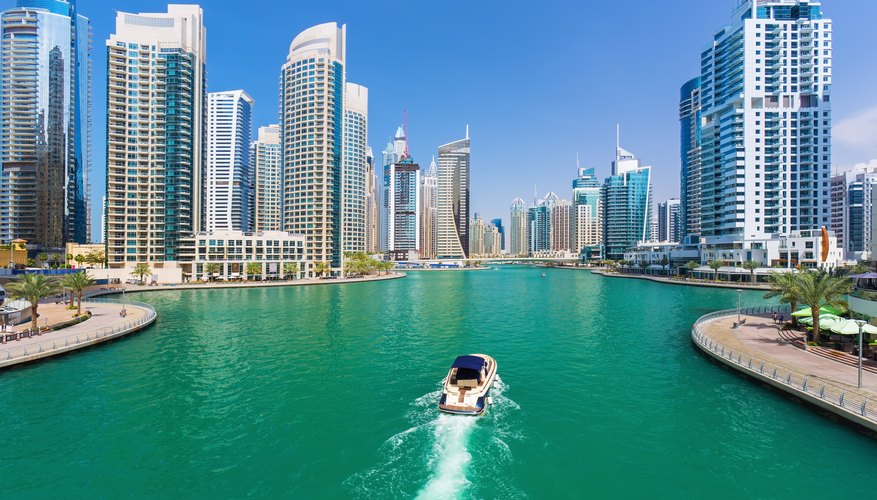 Dubai is a Middle Eastern gem known for its high-end shopping, inspiring architecture and thriving nightlife. Dubai, a 1,588 square mile city within its namesake emirate, is home to more than 2.8 million people. The city is situated roughly at sea level on the Persian Gulf, offering up a stunning beach and city skyline all in one travel destination.
Q: Is Dubai safe?
A: The U.S. State Department urges U.S. citizens to exercise a high level of awareness while visiting the United Arab Emirates due to the chance of terrorism. The State Department encourages U.S. citizens to keep a low profile, change routes for required travel and not accept any packages from unfamiliar sources. While officials in the UAE have proven to handle terrorist threats with extreme caution, most travelers to the UAE do not experience crime. Like travel to any large city abroad, travelers should exercise caution.
Women traveling to Dubai should be wary of the possibility of verbal or physical harassment while traveling alone, consuming alcohol or riding in a taxi. Female travelers should familiarize themselves with cultural norms and be cognizant of actions that may inadvertently invite unwanted attention, like small talk or over-friendliness.
Q: What is there to do in Dubai?
A: Dubai is home to many natural and man-made attractions, like the Burj Khalifa, the Dubai Mall, Burj Al Arab and the Arabian Desert.
Burj Khalifa: At 2,717 ft, Burj Khalifa is the world's tallest building, and it's a part of Dubai's ultra-modern skyline. Visitors can enjoy views from the 124th floor's observation deck or from the 148th floor's swanky At The Top Sky Lounge. If you'd rather eat a meal in the clouds, dine at At.mosphere on the 122nd floor.
Burj Al Arab: One of Dubai's most recognizable landmarks, the Burj Al Arab is a luxury hotel built on a small triangular island. Its sail-like structure boasts the largest hotel atrium in the world.
The Dubai Mall: In addition to more than 1,200 shops and 150 restaurants, the Dubai Mall is home to an indoor theme park, an ice rink, a choreographed outdoor fountain and the giant Dubai Aquarium and Underwater Zoo.
The Arabian Desert: A 20-minute drive from the bustling city of Dubai, the desert offers up natural activities for you to experience Dubai's original tourist attraction. Go on a safari or enjoy off-roading, biking and sand boarding.
Q: What currency is used in Dubai?
A: Dubai uses the same currency as the rest of the United Arab Emirates: the Arab Emirate Dirham. The currency comes in denominations of 5, 10, 20, 50, 100, 200, 500 and 1,000 dirhams.
Q: How far is Dubai from Abu Dhabi?
A: Dubai, the emirate, borders Abu Dhabi. From the city center, Abu Dhabi is about an hour and a half away in a car.
Q: Why is Dubai so wealthy?
A: The United Arab Emirates, made up of seven emirates including Dubai, earns its wealth through petroleum, petrochemicals, aluminum and cement.
Q: How much is a plane ticket to Dubai?
A: Plane tickets vary in cost depending on the route you would like to take to Dubai, with connecting flights costing less than non-stop flights. Often, you can find connecting flights to Dubai under $1,000, with non-stop flights frequently more than $1,000.
Q: What is the weather like in Dubai?
A: Because of its Middle Eastern location, Dubai's weather can typically be characterized as hot, temperature wise. November through March, the peak tourist season, offers the largest break in the temperatures. If you'd rather avoid the crowds, opt for the summer months, but be warned: triple digit temperatures and high humidity are the norm.
Q: What language is spoken in Dubai?
A: Arabic is the official language of the United Arab Emirates, but in Dubai, it is very common to hear mostly English and a variety of different languages from tourists and ex-pats.
Q: Is alcohol illegal in Dubai?
A: Alcohol is not illegal in Dubai, but there are many restrictions on where it can be consumed. Licensed restaurants, hotels and bars attached to hotels can serve alcohol to tourists, but it is illegal to drink in public spaces, like the beach. Public drunkenness is strongly prohibited and can lead to large fines and six months in jail. Outside of the licensed bars and hotels that serve alcohol, tourists can purchase it from a store with a license. However, if tourists purchase bottles of alcohol at a duty-free store in the airport and transport it to their hotel, they can avoid the license.
Q: Where should I stay in Dubai?
A: Dubai has dual appeal: it can be a beach getaway, or a big city stay among skyscrapers. Your interests should determine if you opt for any of the opulent hotels at Palm Jumeirah or a family vacation at Black Palace Beach or you stick with the city center's resorts near shopping malls and attractions.
Q: What should I wear in Dubai?
A: Because of Dubai's heat, it is important to pack light, breathable fabrics. Be sure to throw a scarf and pair of sunglasses in your suitcase to prepare for dust storms. Other than the weather, it is important to pack clothing that covers you from shoulders to knees to respect cultural modesty norms.