From temples to street food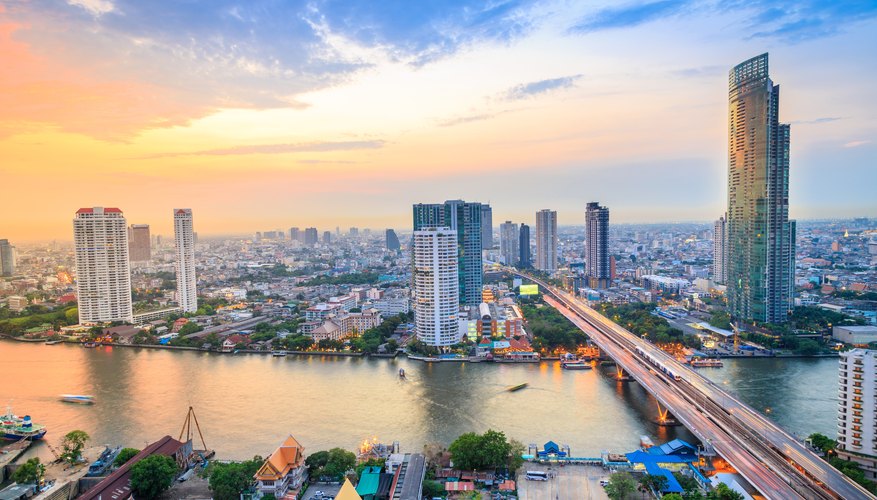 Bangkok may be Thailand's capital city full of historical attractions and temples, but it is also home to a thriving nightlife scene, shopping locales and street markets. Located on the Chao Phrayna River, the city is made up of a network of boating canals that add another dimension to the cultural landscape.
Q: What is there to do in Bangkok?
A: Among Bangkok's architectural sites are landmarks like the Grand Palace, Wat Arun, Khao San Road or Wat Phra Kaew.
Grand Palace: The Grand Palace was formerly a residence, but is now used for hosting royal ceremonies and welcoming official guests.
Wat Arun: An important temple in Thailand's history, Wat Arun, or the temple of dawn, is home to many unique architectural and religious features like a colorful pagoda and many Buddha statues.
Khao San Road: Khao San Road has been deemed "the center of the backpacking universe" because of its array of budget-friendly accommodations, restaurants, bars, money exchange counters, tours and food trucks.

Wat Phra Kaew: Wat Phra

Kaew

on Trairat Road

is a sacred temple that has been home to the Emerald Buddha since 1944.
Q: Is Bangkok safe?
A: The U.S. State Department warns U.S. visitors of periodic attacks of violence in Thailand. Visitors are encouraged to stay alert, exercise caution and monitor international and Thai media before and during their trip. Avoid areas with protests, demonstrations, large gatherings or security operations, and follow any instructions local authorities may give. Bangkok visitors should be aware of pick-pocketing, bag-snatching and burglary that are common occurrences in public spaces. Visitors should be mindful of possible sexually motivated violence and traveling alone.
Q: Where should I stay in Bangkok?
A: To experience the city and its nightlife scene, make sure your accommodations are close to the city center, like the Arnoma Hotel Bangkok, Amari Watergate Hotel Bangkok or Maruay Garden Hotel Bangkok. For a quieter stay, try hotels slightly outside of the city like the Le Méridien Suvarnabhumi Bangkok Golf Resort & Spa, nestled between the city center and Suvarnabhumi International Airport. The Tourism Authority of Thailand offers suggestions on accommodations ranging from Bangkok hotels to campsites outside the city. The resource also maintains lists of places for longer stays, like the Kokret Homestay (Ban Saun) situated 30 minutes from Bangkok.
Q: How much does a meal cost in Bangkok?
A: Eating out in Thailand is known for its lower price point, but prices vary depending on your preferences, of course. If you opt for the open-air street stall or indoor food court, you can often eat a meal for as little as 30 baht, or $1 per person. Lower-end chain restaurants can range between $2.50 and $4.50 per person. Nicer restaurants can cost around $35, with five-star, opulent dining establishments costing closer to $100.
Q: Where can I ride an elephant in Bangkok?
A: There are several opportunities to ride elephants in Bangkok.
Surin Elephant Village: In addition to weekly elephant shows, visitors can participate in daily afternoon elephant rides to the Mun River. At night, visitors can watch elephants bathe at Wang Thalu.

Chang Puak Camp: Visitors can watch an elephant show and ride on the backs of elephants.
Taweechai Elephant Camp: Visitors can ride elephants and take in the scenery of the forest. They can also visit elephant rider village and Kwae Yai River.
Always do your research before visiting elephant sanctuaries or farms, as some of them come under scrutiny for how they treat their animals.
Q: When is the rainy season in Bangkok?
A: The rainy season runs from mid-May through mid-October in Bangkok. During the wet season, visit the North's rice terraces with their freshly planted rice displaying a stunning lush green.
Q: How many international airports are in Bangkok?
A: Currently there is only one international airport in Bangkok, Suvarnabhumi International Airport.
Q: Where is Bangkok's floating market?
A: Bangkok's floating market, Taling Chan floating market, is located in front of the Taling Chan district office in KlongChakpra. Vendors transport produce, fish and other foods to the market via boat, which serves as their stall. Outside of food sales, the floating market also features boat rides, an orchid tour, Buddha image worshiping and the Thonburi snake farm tour.
Q: How do I get a visa to travel to Bangkok?
A: U.S. citizens visiting Thailand who have a valid tourist passport and a departing airline ticket do not require a visa to enter Thailand. However, visitors must have at least six months remaining of passport validity to be granted entry.