All Your Macau Questions Answered
By J. C. Thomas

; Updated September 26, 2017
Everything you need to know about Macau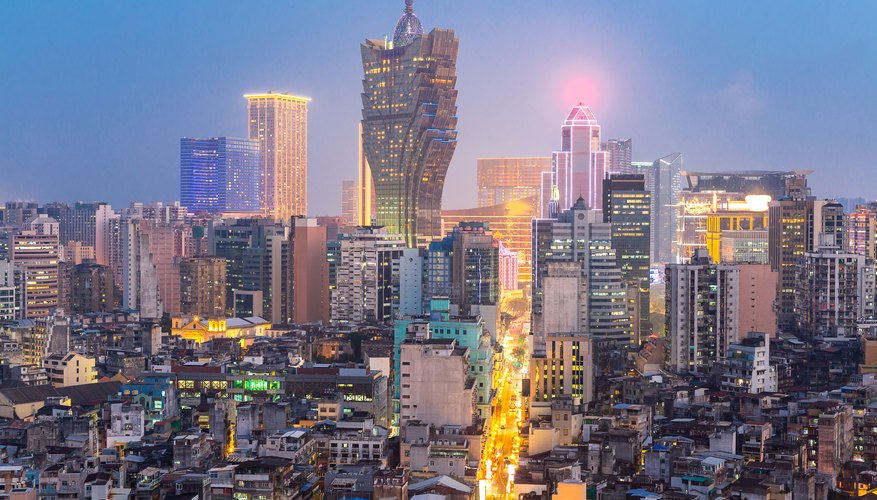 Macau is best known today as one of the world's foremost destinations for gambling, but its rich and complex heritage makes it a considerably more intriguing place than its abundance of casinos suggests. A Portuguese colony from the mid-16th century until it was returned to China in 1999, Macau was both the earliest and longest-lasting European colony in the Far East. As such, it retains the well-preserved relics and vestiges of a unique mixture of Chinese and Portuguese cultures, religions and cuisines. There's a lot to discover in Macau, and if you're planning a visit there, you likely have lots of questions about this unique region of China. Here are answers to some common queries.
Q: Where is Macau located?
A: Macau is a Special Administrative Region of China, a peninsula off the southern coast of the Chinese mainland. It's 40 miles west of Hong Kong; its northern border is mainland China (the city of Zhuhai); and to the east and south of Macau are the Pearl River Delta, where the river meets the South China Sea. In addition to the Macau Peninsula, the region includes the islands of Taipa and Coloane, plus a new island on reclaimed land named Cotai.
Q: What is the population of Macau?
A: Given that the Macau peninsula has an area of a little under 12 square miles (less than one-sixth the size of Washington, D.C.), its population of over 600,000 makes Macau the most densely populated region in the world. Add to its numbers a huge crowd of tourists present at any given time. In 2015, Macau welcomed over 30 million visitors from all over the world, the majority coming from mainland China, Hong Kong and Taiwan.
Q: What language is spoken in Macau?
A: Macau's official languages are Chinese (Cantonese) and Portuguese. According to The World Factbook, 83 percent of Macau residents speak Cantonese, 5 percent speak Mandarin, 4 percent speak Hokkien and 2 percent speak other Chinese dialects. English is spoken by 2.3 percent of Macau residents and Portuguese by less than 1 percent. However, staff in hotels, resorts and tourist restaurants are generally able to speak at least conversational English.
Q: What currency is used in Macau?
A: Macau's own currency is the Macanese pataca, which is made up of 100 avos. Forms of the currency include 10, 20, 50, 100, 500 and 1,000 pataca notes; 1, 2 and 5 pataca coins; and 10, 20 and 50 avos coins. The Hong Kong dollar is also accepted universally throughout Macau. With the exception of attractions, most businesses that cater primarily to tourists will list their prices in Hong Kong dollars.
Q: What is Macau famous for?
A: In contemporary times, Macau is famous as the gambling capital of the world and for the mass tourism driven largely by that status. The region's most famous annual event is the Macau Grand Prix, for which its streets are converted into a racetrack each November. UNESCO has designated the Historic Centre of Macau as a World Heritage Site, which includes 22 historic buildings and public spaces, a fortress and the oldest lighthouse in China. These places earned World Heritage status for representing the oldest and longest-lasting economic and cultural exchange between China and the west. Another of Macau's claims to fame is that its people have the fourth-highest life expectancy in the world.
Q: What is there to do in Macau?
A: The primary activity for most visitors to Macau is gambling in its casinos, but sightseeing is another enticing option. The region features numerous interesting museums, including the Maritime Museum dedicated to Macau's seafaring heritage, the Macau Museum honoring the history of the peninsula and the Macau Museum of Art, which exhibits works of art created in Macau and China. The colonial houses and old cobbled streets of the St. Lazarus Church District are especially picturesque, as are the panoramic views from Guia Fortress, built at the highest point on the peninsula. The region features many colonial churches, the most famous of which is the Ruins of St. Paul's, along with numerous ancient temples, including A-Ma Temple.
A-Ma Temple, the oldest temple in Macau, was built in 1488 as a shrine to Mazu, the goddess of fishermen and seafarers. Its classical Chinese architecture and serene atmosphere attract visitors and locals alike. A-Ma Temple even has its own dedicated festival in April.

The Ruins of St. Paul's is what remains of a mid-16th century Jesuit church that, at the time of its construction, was the largest church in Asia. An elaborately carved granite facade and 68 stone steps are all that remain of St. Paul's after an 1835 fire. Their design reflects a unique blend of eastern and western influences due to the Japanese Christian builders and Chinese artisans who contributed to its construction.
Q: Where is Macau Tower?
A: Macau Tower, a landmark visible all over the region, is located in the Lago Sai Van neighborhood on the southern tip of Macau Peninsula.
Macau Tower is a 1,083-foot tower housing restaurants, shops, offices and, at 731 feet above street level, an indoor lounge, outdoor observation deck and revolving cafe. The lounge features a clear glass section of flooring. Daring visitors can take a harness-and-rope tour of its outdoor ramparts, climb the tower's mast or brave the world's highest commercial bungee jump.
Q: How many casinos are in Macau?
A: Macau hosts over 30 casinos, many of which are included in luxury hotel and resort complexes. They are generally all open 24 hours a day with free admission, although you will need to show your passport to enter. From 1962 until 2002, all Macau's casinos were locally-controlled, but the gaming industry opened to foreign competition in 2001. Now approximately half of Macau's casinos are foreign-owned, among them names familiar to any Las Vegas visitor, including Wynn, MGM Grand and The Venetian. Gaming is the number one industry in Macau, with taxes from the activity making up over 76 percent of total government revenue in 2016.
The Venetian Macao, which opened in 2007, is notable as the largest casino in the world and also one of the largest buildings in the world, by floor area. It's located on the Cotai Strip. In addition to its enormous casino, The Venetian Macao offers 3,000 guest rooms and suites.